Ashwagandha KSM-66 (600 mg)
After 14 years of testing, KSM-66 has been identified as the most potent form of Ashwagandha. It is a highly concentrated version of the revered herb that has been extensively researched. One capsule of KSM-66 is equivalent to the benefits of twenty ordinary Ashwagandha tablets. Our approach combines ancient wisdom with scientific methods to deliver the strongest Ashwagandha, promoting optimal physical and mental recovery. Experience deep, restful sleep, wake up feeling refreshed, and enjoy sustained energy throughout the day.
Clean & Powerfull
Verified For Wellness
Cutting-edge Science
100% Veg
Increase testosterone
COMPARISON WITH OTHER MARKET ALTERNATIVES
COMPARISON WITH OTHER MARKET ALTERNATIVES
KSM-66 is found to be the most potent form of Ashwagandha.
We use ancient Ayurvedic wisdom to collect the raw Ashwagandha roots from the forest, followed by modern Co2 extraction techniques to obtain the concentrated formula – KSM-66. This formula is highly bioavailable i.e. can be fully absorbed by the body, making it even more powerful.
With just one dose a day, control your stress and anxiety. Experience deep sleep and boost your stamina. Rejuvenate brain cells and experience a sharper mind.
Quality manufacturing –  Made in an AYUSH Licensed & GMP certified facilities with strict quality control measures

Tested For Safety – Each batch is tested for base levels and concentrations. You can even request the Certificate of Analysis specific to your batch.

Natural ingredients – We use raw, organic & non-GMO Ashwagandha herb root to create our KSM-66.

Vegetarian-friendly – Ashwagandha KSM-66 is 100% Vegetarian, including the capsule cover that is made of non-gelatin plant-based organic content.
CUSTOMER REPORTED THE BELOW WITHIN 60 DAYS OF USAGE
MORE ACTIVENESS
INCREASED FOCUS AT WORK
BETTER SLEEP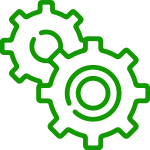 ENHANCED PERFORMANCE
Frequently Asked Questions